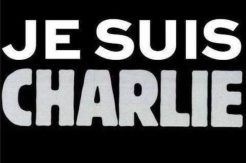 Droit au Droit - Right to Law utterly condemns the horrific attack on the office of the French satirical weekly magazine Charlie Hebdo and stand in solidarity with the victims, including several journalists (the cartoonists Charb, Cabu, Tignous and Wolinski and the economist Bernard Maris) and two policemen. We extend our deepest condolences to their family and friends, and to their many colleagues and friends around the world.
Today's attack on Charlie Hebdo is a despicable and intolerable assault on freedom of expression and freedom of expression, two critical instruments to advance the full establishment of democratic, open and accountable institutions. The media plays an important part in the exercise of these freedoms by independently and freely reporting, analyzing, evaluating, ensuring transparency and accountability in public affairs as well as critiquing all aspects of society.
This dark date also provides a tragic opportunity to remind that in dozens of countries around the world, the media are targets of restraints, threats and censorship, while journalists are harassed, attacked, detained and even murdered. Every day, worldwide, the independence of both traditional and digital media is the target of assaults which not only limit the right to freedom of expression but also undermine the ability of all people to benefit from a free and open information.
Freedom of expression, enshrined in Article 19 of the Universal Declaration of Human Rights, is crucial and fundamental for empowering individuals and building free and democratic societies. Freedom of expression, media and its practitioners to operate and speak freely and openly, without fear of reprisal, also provides the conditions for protecting and promoting all other human rights.