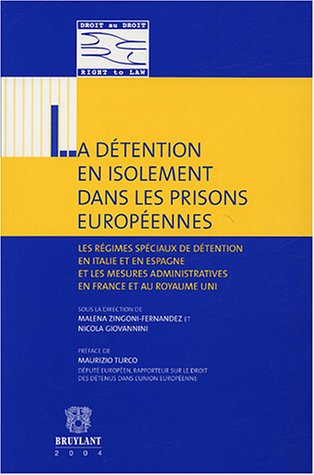 Sous la direction de Malena Zingoni-Fernandez et Nicola Giovannini
Préface de Maurizio Turco, député européen

Auteurs:

Raquel Benito López, Professeur de Droit pénal à l'Universidad Autónoma de Madrid et avocat du Service d'Orientation Pénitentiaire Légale du Honorable College d'Avocats de Madrid.
Gaetan Cliquennois, Criminologue, professeur agrégé en droit, Université Libre de Bruxelles.
Maricarmen Colitti, Conseiller legal de "No pace without Justice"
Sharon Shalev, Docteur en recherche à la School of Economics and Political Science of London
Daniel Guinea, Docteur en recherche à l' Institute Europeen de Florence.

Résumé :
Au carrefour du droit, de la criminologie et de la sociologie, cet ouvrage, élaboré sous l'égide de l'association internationale Droit au Droit, analyse les régimes européens d'incarcération dérogeant au régime pénitentiaire de droit commun qui sont susceptibles, au regard des standards du Comité européen pour la Prévention de la Torture, de fonder une violation des droits de l'homme.